Some photographs by Alia
The road to the North Rim was still closed for the winter, so the four of us drove 22 miles out a bumpy Forest Service road and camped at the Saddle Mountain trailhead. The area was ugly from having burned recently, but it was our gateway to the Nankoweap trail, one of the few North Rim entry points to the Grand Canyon. In the busy days before leaving home, I had relied on my friend, who had instigated the trip, to figure out our 100-mile route, and hadn't paid much attention. We have done a lot of hiking in the Southwest together, and I trusted his judgement. The trail astonished me. According to the National Park Service, Nankoweap was an old Native American route that was improved by John Wesley Powell during his surveys in the 1880's, and later used by horse thieves to drive horses across the canyon. However, it has such tremendous exposure that it's hard to believe that the NPS still considers it a major, public route into the canyon, and harder to imagine that anyone would ever consider driving frightened horses along it. I suppose it would have been wise to read the NPS's website, which says:
This trail is classified as MOST difficult of the named trails in Grand Canyon. It has the largest total rim-to-river drop (5,640 ft / 1,735 m) and is one of the longest trails [14.5 miles to the river; 9 miles to water]. Hikers must be experienced in canyon route finding; this trail is not recommended for inexperienced or solo hikers. The Nankoweap Trail is not enjoyable as a summer hike as there is no water and little shade until Nankoweap Creek. The hike will require a minimum of 4 to 6 liters of water per person, per day.
Ah, yes; hindsight. We foolishly didn't carry quite enough water, and did have a few minutes of routefinding trouble at one point, mostly because we couldn't bring ourselves to believe the evidence of where the trail went. For several miles, it skirts across the middle of a vast cliff. The path is wide enough to be relatively safe, but there are many places where a stumble could be fatal.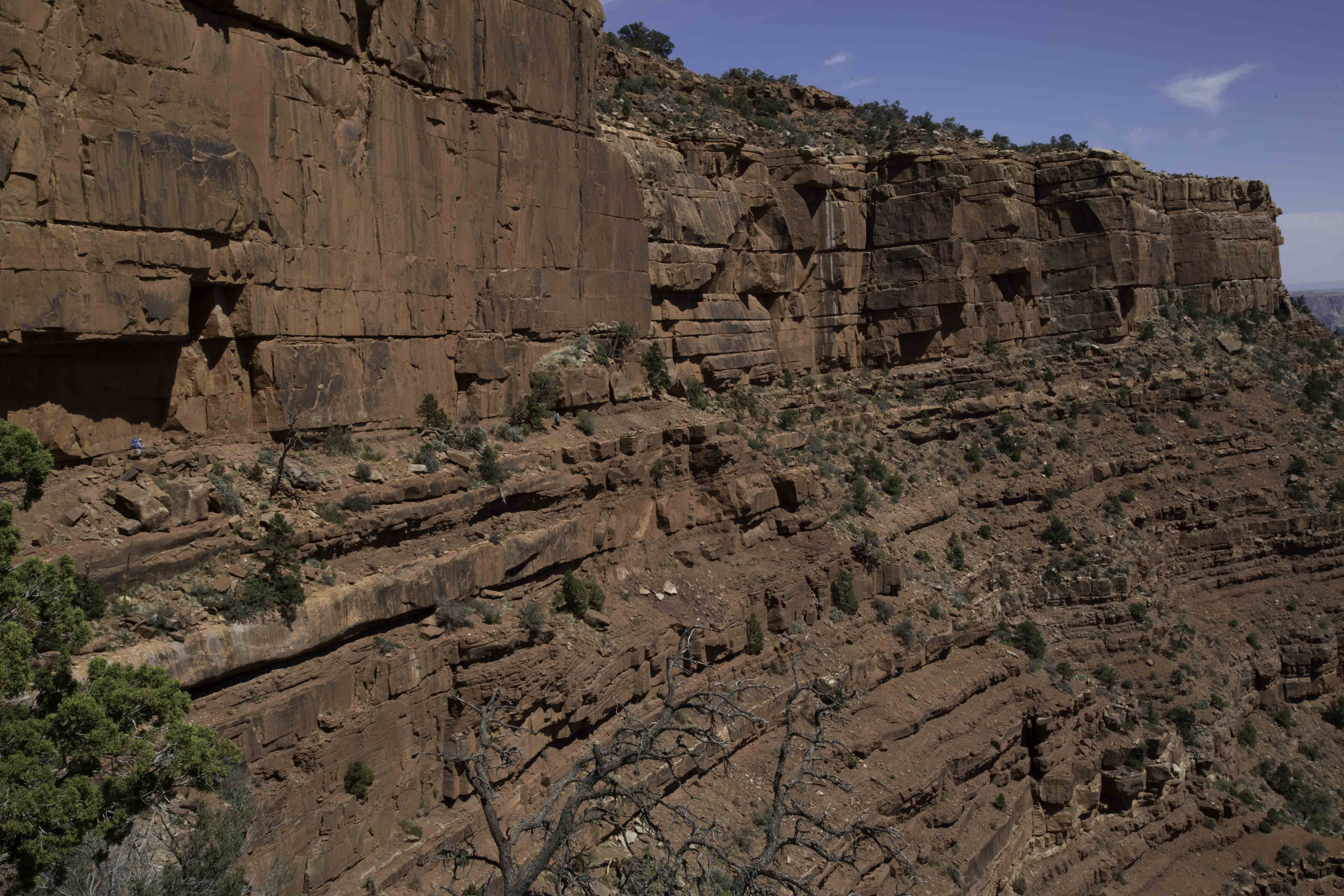 The Nankoweap trail goes right across the middle of this photograph--if you look closely, you can see two people on it.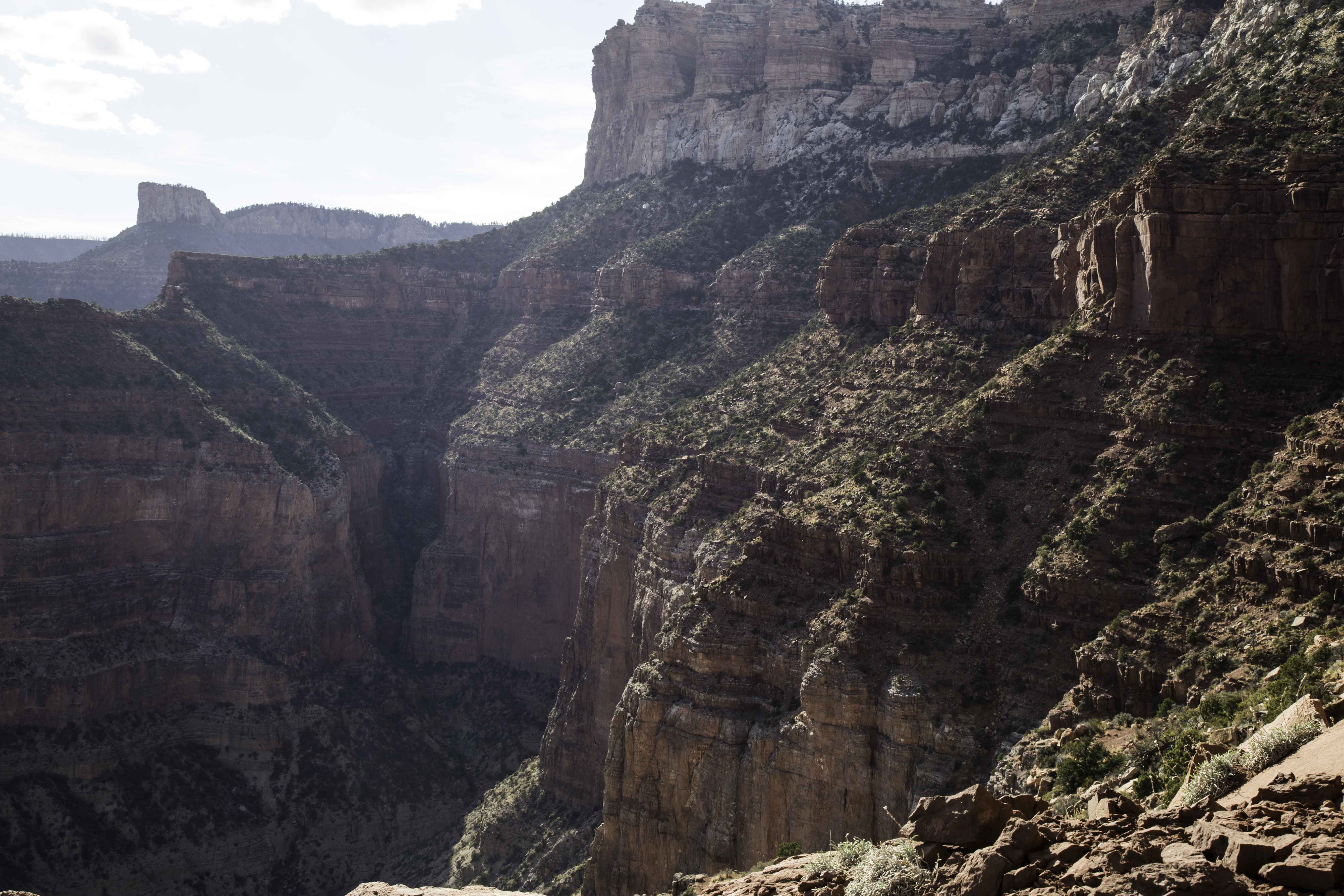 Looking back, the Nankoweap runs just below the middle band of cliffs all the way from the far end of the cone-shaped valley.
We had enjoyed mild weather at the rim, but the canyon became much warmer as we descended through pinyon pine and juniper into the drier and harsher desert within. The trail was very rough, and our group proved slow over the unforgiving terrain and relentless descent in the day's heat. When dusk fell, we had run out of water and were on a dusty, cactus- and boulder-strewn ridge about 1,500 feet above our destination. We hiked the last hour or so with headlamps as a 3/4 moon rose, grateful for the cooler temperatures but also thirsty, tired, and hungry. Coming down the last slope, we suddenly heard the delicious sounds of running water and singing frogs, and dropped into a little verdant paradise at Nankoweap creek. I knelt on a large, flat rock to filter water, and gradually became aware that I was sharing the rock with three Canyon treefrogs, one of which was singing so lustily with its little throat-pouch all puffed out that my inner ear muscles were clenching involuntarily against the onslaught. I've never seen frogs that were so unafraid of people--I had to move carefully to avoid squashing them, and they kept right on singing. We made dinner, laid out our sleeping bags, watched the stars and listened to the frogs sing as we fell asleep, as if in some enchanted dream space. To be surrounded by wild creatures who are doing their own thing without human interference or influence is a moving experience, and very, very rare. It's hard to describe how lucky I felt.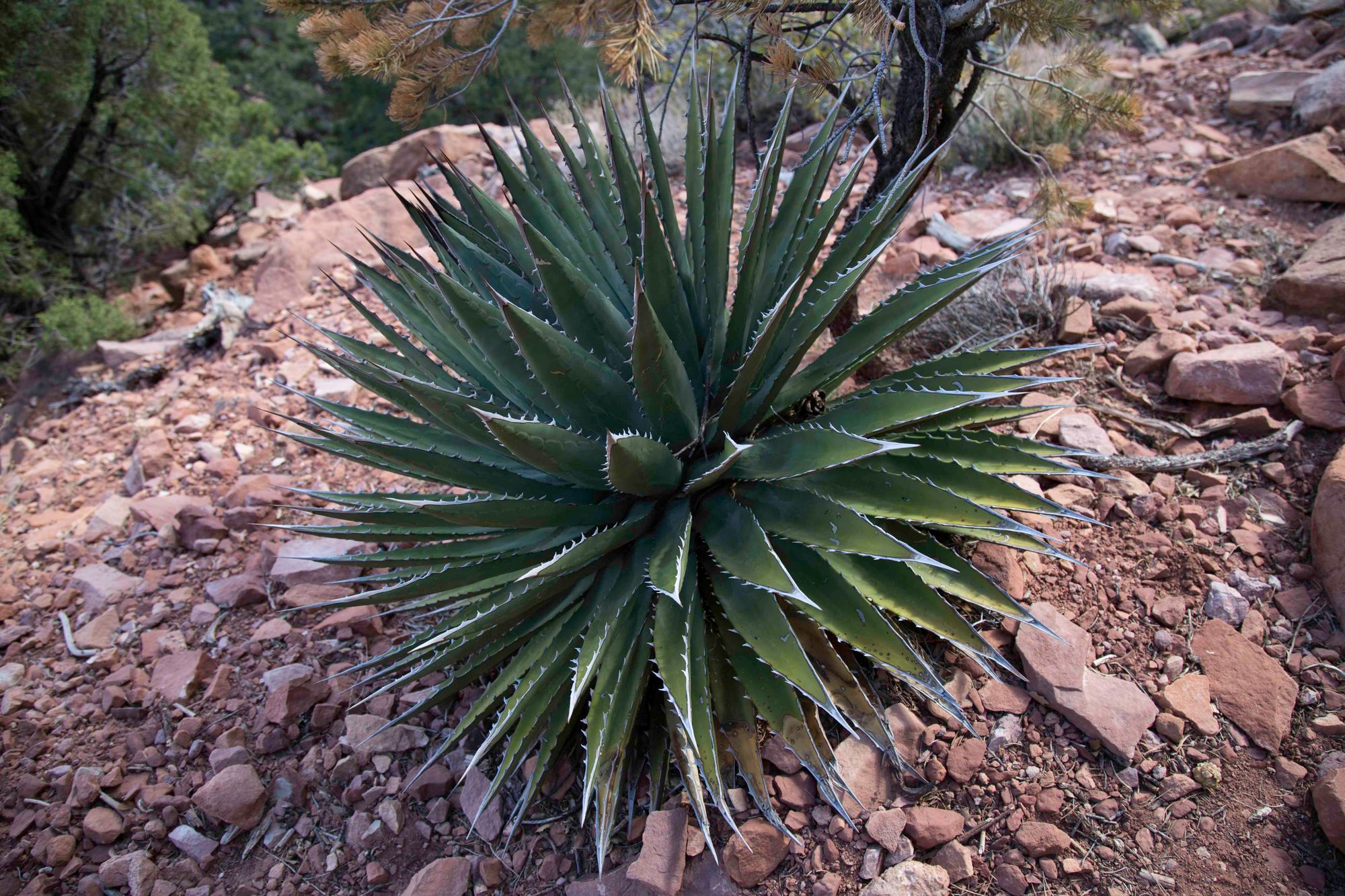 A beautiful yucca of some sort (I think)
When we awoke to the heat of the morning sun, the creek was still lovely but the spell had broken and the frogs had disappeared. We had a relaxed breakfast and made our way slowly down the valley on a somewhat easier path to the main river, 3.5 miles away. The mainstem was beautiful and wide, and the south wall at the point where we joined it is vertical for nearly its entire height. As we were descending on the previous day, for many hours we had been able to see the desert, flat as a tabletop above the cliffs; now the majestic red cliffs towered over us. We were hot and sweaty, and gratefully dipped ourselves in the river. To our surprise, it was icy cold. We learned later that the river water is drawn from 200 feet beneath the surface of the Lake Powell reservoir, where the temperature is a constant 47 degrees. The natural river temperatures used to fluctuate between near-freezing in winter to 80 degrees in summer, and the unchanging 47-degree temperature is a problem for some of the native fauna.
We had planned to hike a modest 9 miles a day, but there was no maintained trail along the river and the going was difficult. Generally, one has to choose between boulder-hopping along the water, crashing through dense, tall reed beds just behind the water's edge, ducking through tamarisk and catclaw acacia trees with sharp thorns on every branch that grow in gloomy, impenetrable forests mixed in with the reeds, or scrambling up steep, loose scree slopes and inching along sketchy goat paths above long palisades, with strenuous descents and climbs required to cross every gully; all with a pack, of course. The prickly pear and barrel cactuses grow so densely that in places, you have to dance a delicate ballet to pick your way through them. Our group moved more slowly than we had hoped to, and after 11 hours of hiking, we had only made 6 miles of progress. We met a solo hiker coming the other way; the first person we had seen since starting the trip. He told us that he had hiked all over the Grand Canyon backcountry, and the few miles ahead of us until Kwagunt rapids were his least favorite in the park. Furthermore, he had done the 5-mile section following that from Kwagunt to Lava rapids only once, years ago, and it was so difficult that he refused to repeat it. We camped on a sandy beach, glad to be on the beautiful mainstem but beginning to wonder whether a change of plans would be necessary. We were behind schedule and several of us were suffering from a variety of ailments in addition to the predictable soreness, blisters, and so on.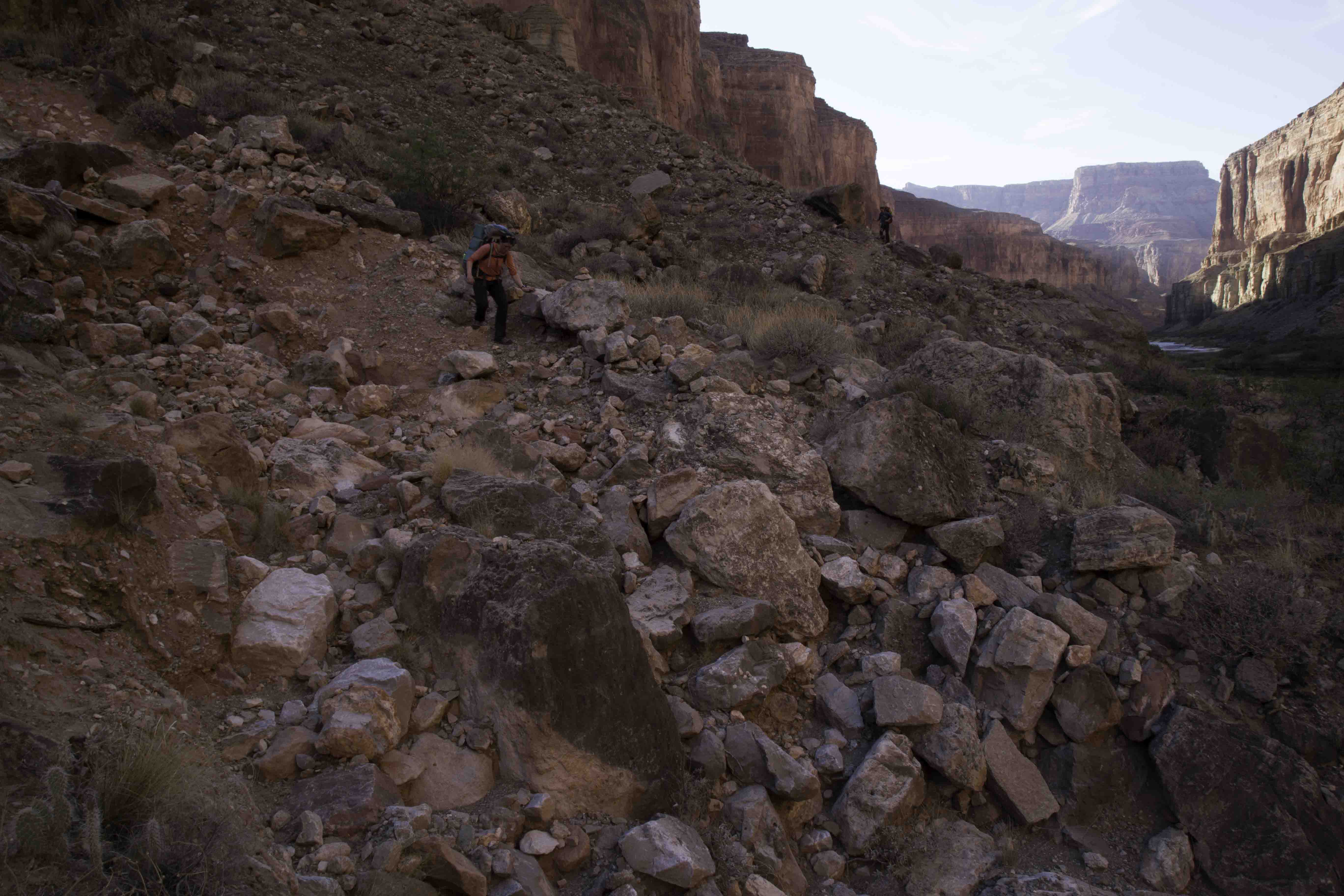 Hard going along the river.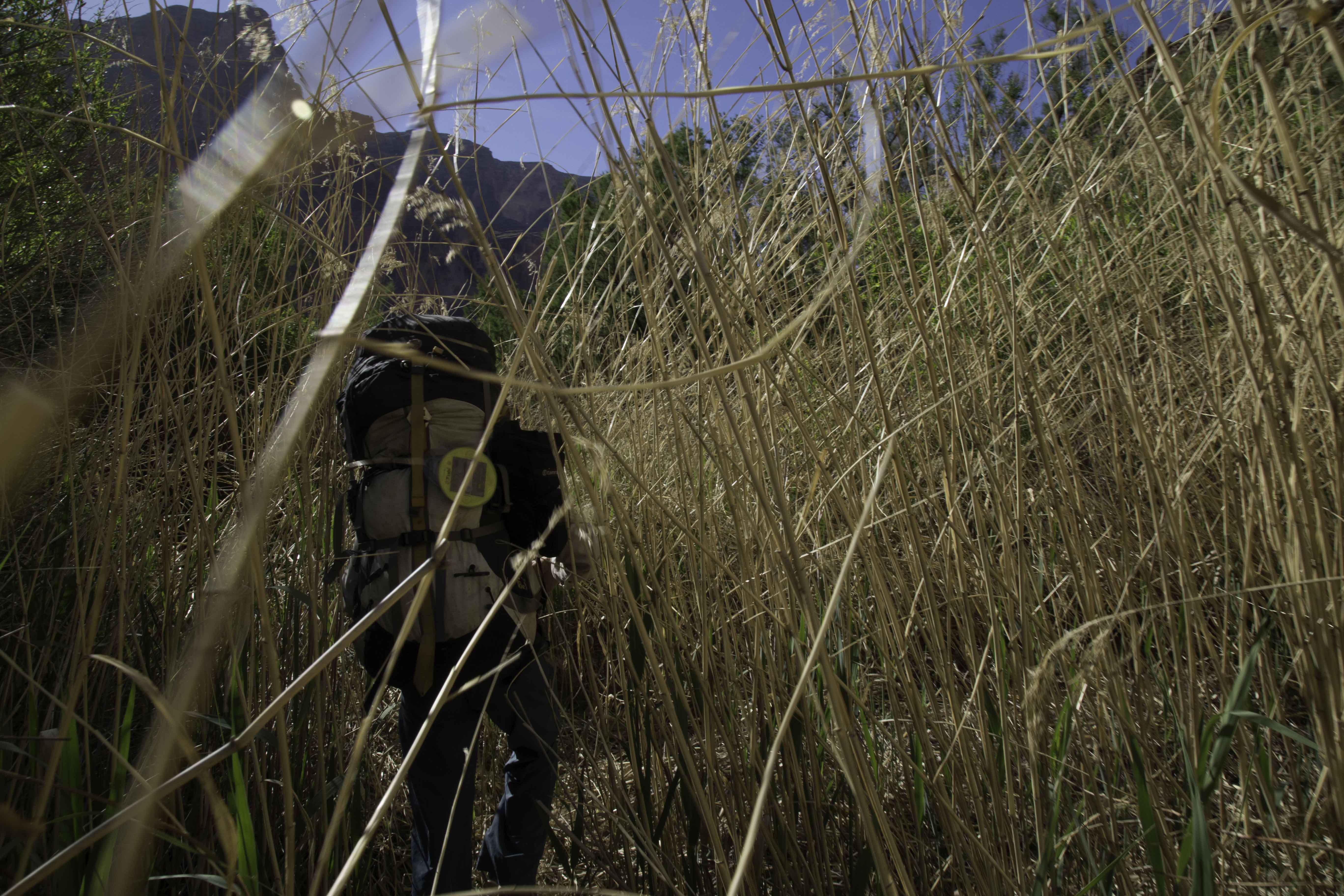 ]
Do we choose reeds...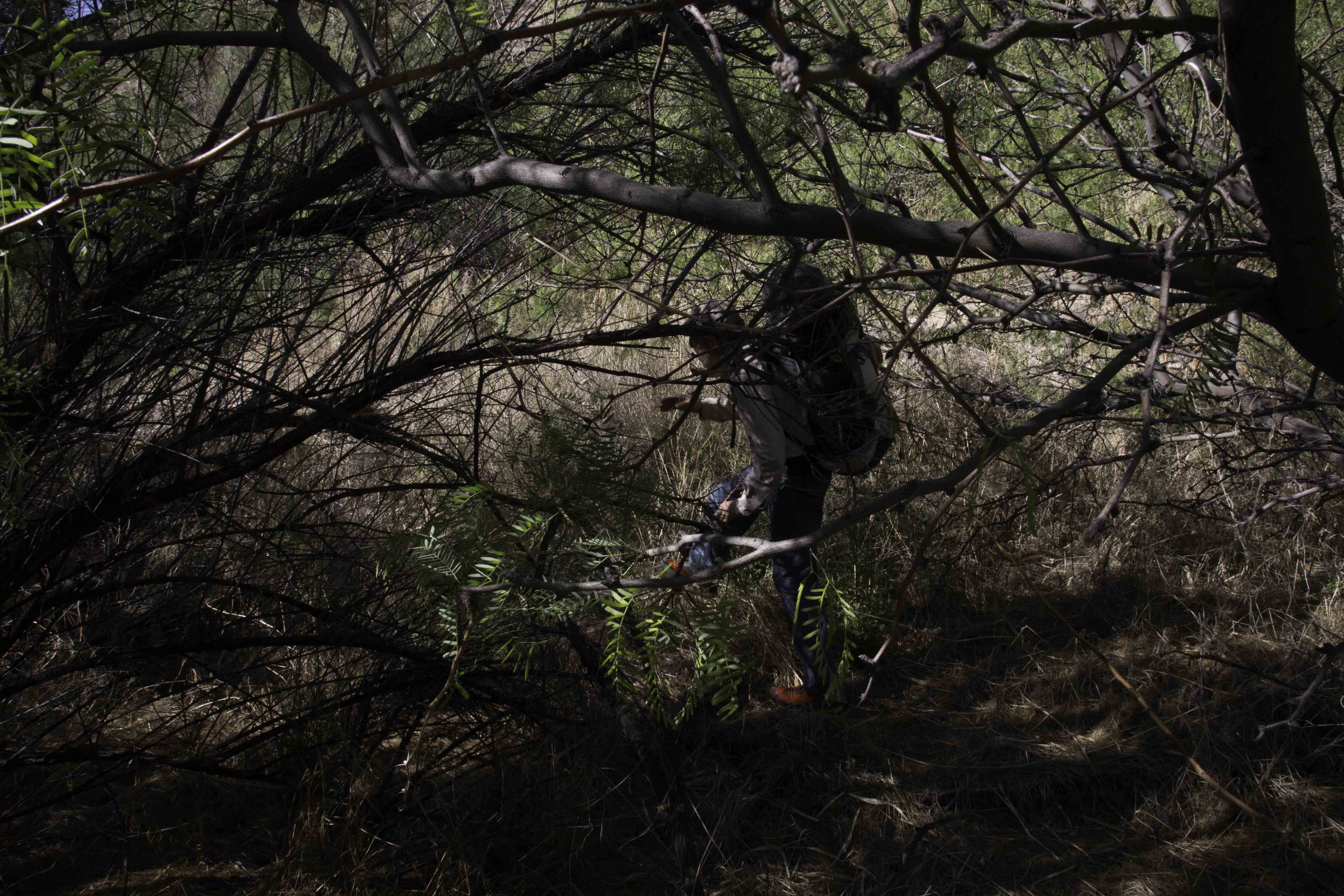 ]
...and thorn trees...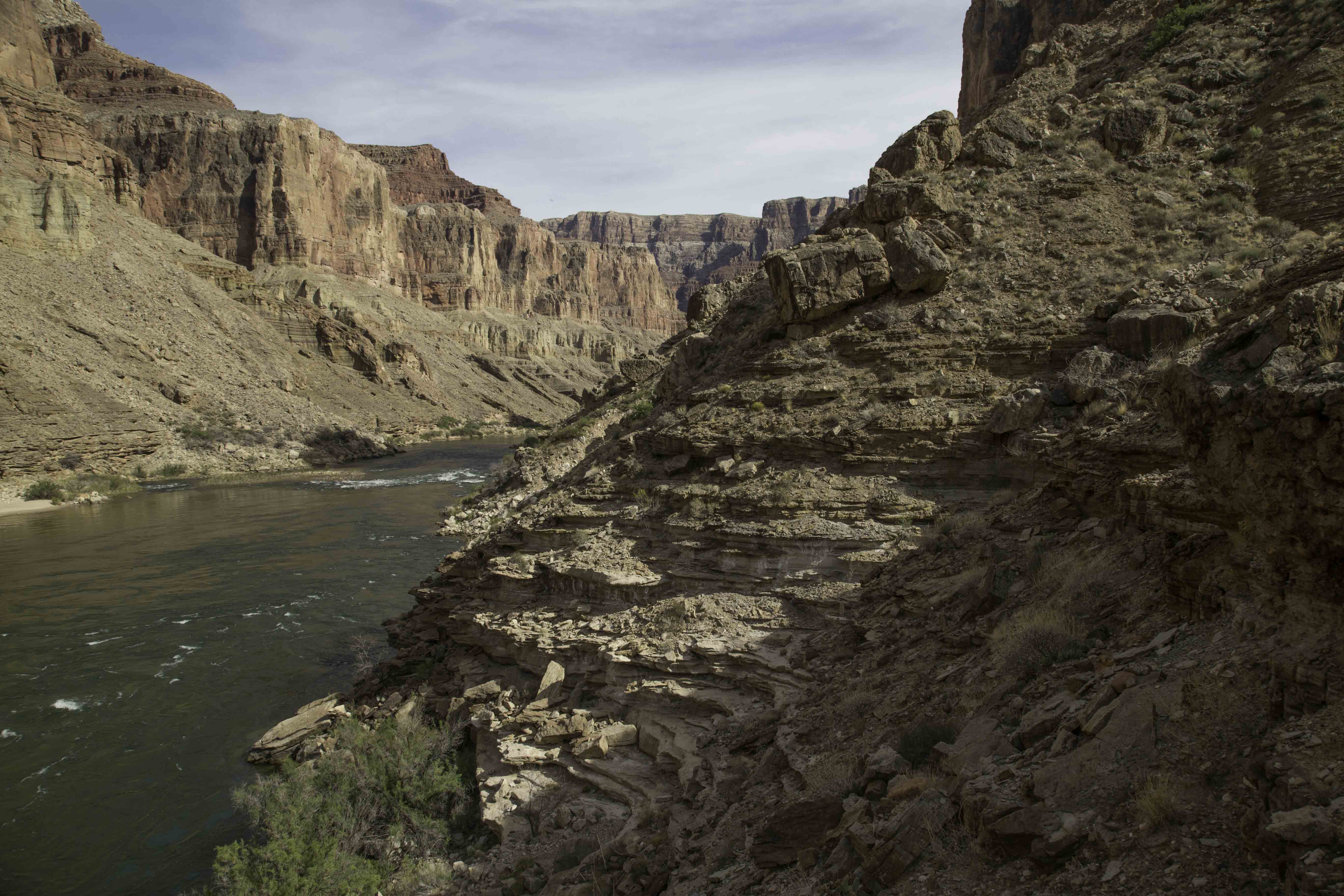 ...or the high route, up and over yet again?
The next morning, most of our sore and tired group wanted to try catching a ride on a raft to the Little Colorado river in order to bypass the most difficult section of the route ahead. We hadn't seen any boats on the previous day, but we were pretty sure that there would be a few trips passing by each day. We got moving early and hiked a few hard miles as quickly as we could to get downstream from the Kwagunt rapids. Once there, we chose a prime position where we could see a raft coming and rafters would be able to pull off in an eddy, and ate lunch and lounged in the paltry shade of some small bushes as the temperature climbed past 95 degrees. For two hours, it was silent, still and hot. We were just about to give up and begin walking again when three rafts and a couple of paddleboards rounded the corner. We hailed them, they kindly stopped, and after some discussion agreed to take two of us down to the Little Colorado (they had only 3 extra life jackets). My daughter and I stayed behind, and after a hurried goodbye with the others, we finished our lunch and set off downstream on foot. The parting had been so strangely sudden that for the next hour or so, we kept wondering if each party had everything it needed ("Wait a minute, do we have a tent?"..."Do they have any food?"), but it turned out that we had anticipated the division pretty well and we soon relaxed into the rhythm of walking.
It was very hot and the going was, as advertised, even harder than before: denser trees, bigger boulders, higher cliffs, and so on. However, we were a good and cheerful team, pleased to be going at a steady pace and stopping less often, and we shared the route-finding and supported each other. As dusk approached, we came to a long series of cliffs that were 200-300 feet high, and had to choose whether to try to skirt along the water or climb high above them. We did a little exploration and decided for the high route despite our heavy packs and tired backs, since the lower route seemed likely to involve swimming. The cliffs stretched downstream at least a mile and we didn't know whether we would be able to downclimb at the far end; also, the guide book had suggested (without explanation) that hikers ought to cross the river about a mile above Lava rapids. I wasn't eager to be caught up high at dark, and with all of those uncertainties on our minds, we hiked as quickly as we could.
After about a mile I began to suspect that we had already passed the recommended crossing point, which the guidebook had obviously suggested for the purpose of avoiding the very cliffs we were now on. Sure enough, our goal, the mouth of the Little Colorado river (which rafters call the "LCR"), eventually came into sight on the opposite side of the mainstem ahead of us. Our plan had always been to hitchhike a ride across the main river, but dusk was approaching fast and it now seemed likely that we would have to wait another day to find a ride. We had passed a couple of questionable spots where we might be able to downclimb in a pinch, but the terrain was gradually flattening ahead, and it looked as if the cliffs might end gracefully if we kept going. Without warning, a party of rafts appeared silently around the corner about half a mile upstream from us, drifting lazily downstream, the rowers seemingly half asleep at the oars. Our hopes of crossing were suddenly renewed, but we figured the rafters wouldn't stop if we were too high above the river, so we raced along the clifftops looking for a way down. This gully? Nope--big pour-off. This one? No, keep going. This one? Dicey... until we found a spot where we could make it down. We scrambled out to the riverbank and hailed the raft just in time as it pulled even with us.
By chance, the rafters had decided to stop for the night on the beach right there, so we helped them to unload their gargantuan cargo of coolers, full-size propane tanks, a metal grill, chairs, tents, clothing, roll-top bags, a metal box labeled "Polenta and Pancakes" that was so big that it took two of us to lift, and so on; the contrast with our relatively spartan backpacking gear was amusing. One of the young men was a former river guide, and when we were done unloading, he hauled a net bag from the side of the raft and handed us each a beer that had been refrigerating in the river, and generously rowed us across to the far bank. The beer was indescribably delicious, and the 10-minute trip peaceful and lazy for us. On the other side, half buzzed, we met up with the others, who had thoroughly enjoyed their longer river trip. We were happy to be united but also tired and hungry, and so we moved up the LCR a ways, made dinner, and camped. The LCR was "running blue": the warm, salty water was an incredible, light, chalky blue color, apparently from calcium. The stands of pale reeds across the water, white-encrusted stones, soft white sand beaches, flat rock ledges and red cliffs under the nearly full moon created a scene more beautiful than any human architect could design.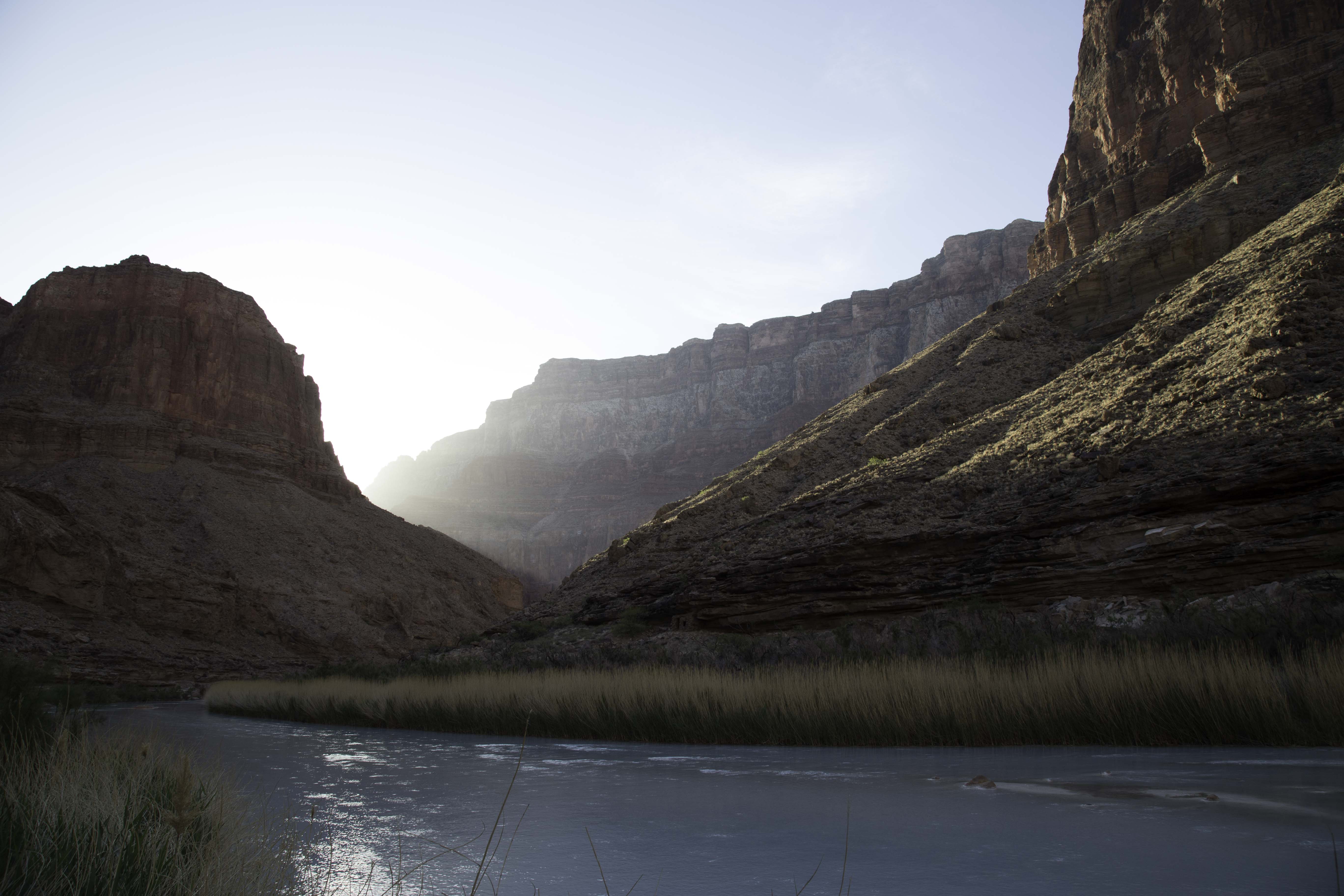 The beautiful Little Colorado, running blue.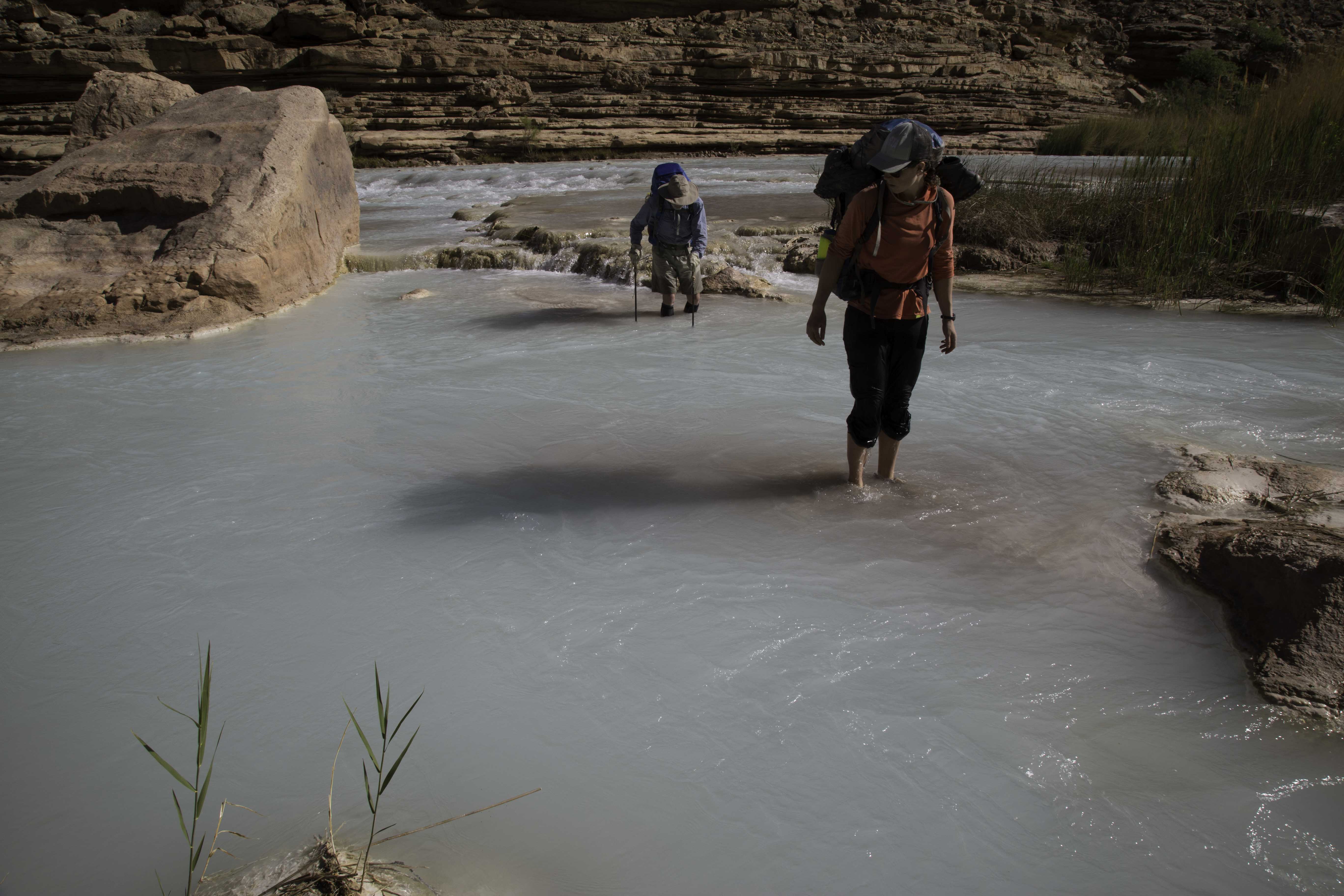 Wading the Little Colorado in the morning.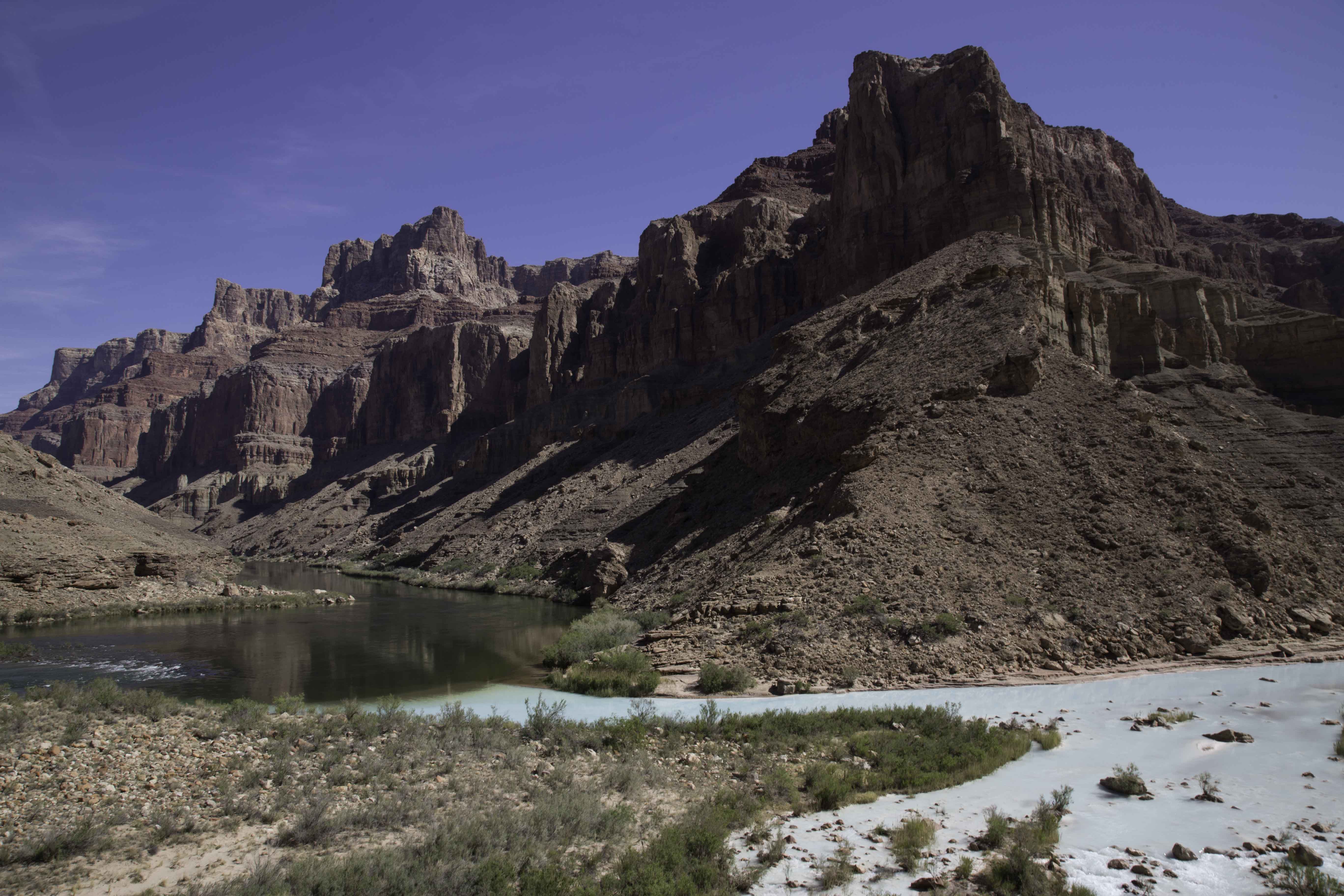 ]
The LCR meets the mainstem.
In the morning, we waded across the LCR, hip-deep and just strong enough to be a bit scary, savoring its warm, blue waters. From the LCR, it was 9 miles along the Beamer trail (an actual trail!) to get to the Tanner trail, which was the first possible exit from the canyon to the South Rim. The first 6 miles were relatively hard, despite having a trail. The temperatures climbed to 100 degrees and the trail moved far above the river to where there was no possibility of replenishing our water, but by this time we knew that we would drink far more than usual, and we carried 4L each. Like the Nankoweap, the Beamer trail was perched above cliffs, and in many spots was narrow and sloped towards precipitous drops. It was no place to be if you were feeling dizzy from heat exhaustion and carrying a big pack. We took it slowly, and some of the canyon's magic slipped away as we began to meet other hikers, and to be passed by rafts below. By the time the trail had deposited us back on the beach, our group was very overheated, tired and a little dispirited. We were obviously moving too slowly, and the thought of covering the next 60 miles in such heat wasn't appealing. We cleared our heads with a swim, and then sat on the beach and had a war council, from which emerged three decisions: 1) we would bail out, using the Tanner trail to exit the canyon, 2) we would hike out at night to avoid the fierce daytime temperatures, and 3) we'd wait a day before hiking out, to let our party recover. We camped on the beach, grateful for the coolness of the evening.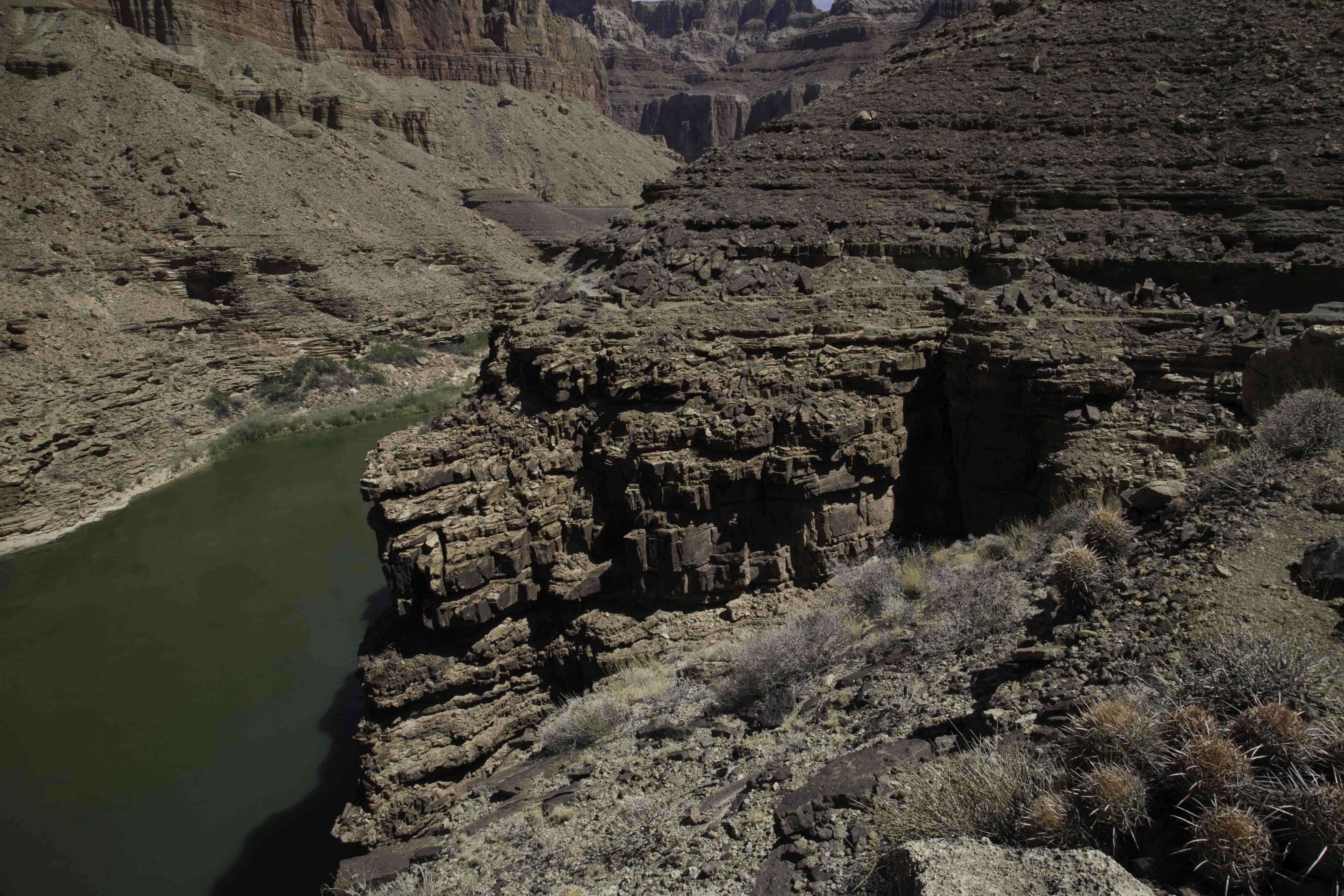 The hot, dry Beamer trail skirts yet another gully, about 500 feet above the river.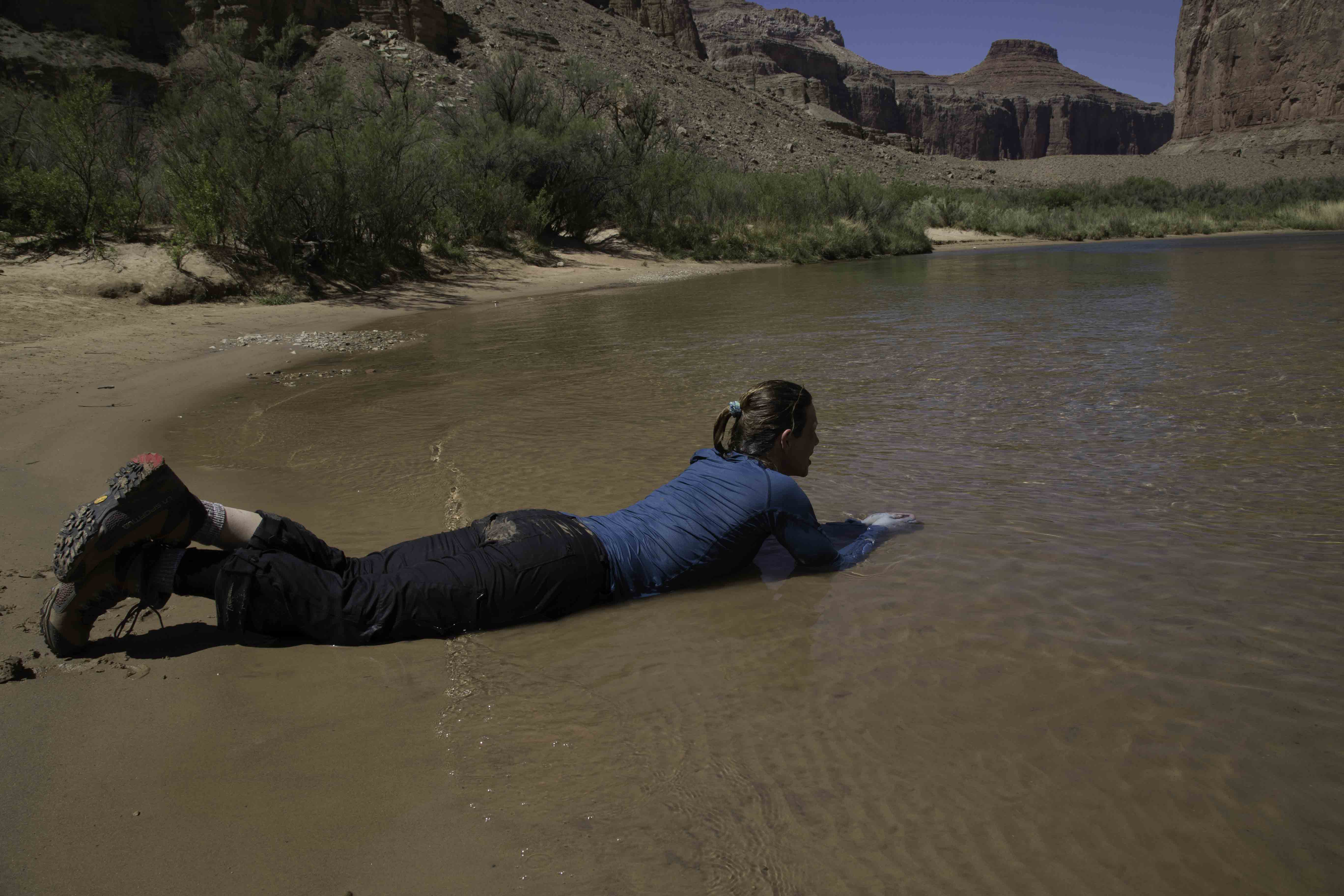 Finally, a chance to cool off.
The next day, we hiked the remaining 3 miles to the base of the Tanner trail, and I was disappointed to find that it was very busy with other hikers--a total of 13 of us had appeared by the end of the day. My friend felt exactly the opposite; he was thrilled to chat with every new arrival. Without the pressure to keep moving, we waited around lazily for a group to leave in the afternoon and then comandeered a cave that they vacated, cooked our dinner, and, after watching bats for a while near dusk, we slept out under a moon so bright that we all wore blindfolds.
On our final day we slept late, lay in the cool shade of a little cave by the river, read, swam, ate, and wrote in our diaries while we waited for dark and planned our exit. People came and went, rafters passed, the sun crawled across the heavens, I finished a book, swam, felt antsy, planned and thought. Using every container we had, I found that we could carry about 5 liters of water per person. I worried about running out of water because I didn't know how slow our party would be on the long ascent, which was a daunting 4,650 feet in 9 waterless miles (the NPS warns that the trail is unusually hot in daytime).
Around sunset, we made our final preparations, did a last check of the caves, and started out. We climbed very slowly to maximize our endurance and took many short breaks. The climb proved as prodigious as it appeared on the maps. Around 2AM, we took a longer break for "lunch," somewhere high above a precipitous canyon that vanished into layer after layer of shadow below us, and far below a massive, moonlit wall that loomed ahead. It turned out to be a truly magical night, in many ways the highlight of our trip. In the darkness, the temperatures were reasonably cool and there was a gentle breeze from time to time, just enough to cool our sweaty backs. We used less than half as much water as we had during the day, despite the elevation gain. The upper canyons were perfectly still except for an owl calling, and we climbed mostly in silence, each in our own thoughts. The moonlight was so bright that in the 9.5 hours that it took us to reach the rim, I used my headlamp only for about half an hour on a very steep section near the top, once the moon had sunk far enough from its zenith to cast parts of the rocky trail into inky black shadows. We fell into a slow, meditative rhythm that was like gentle sleepwalking: step, breathe, step, step, breathe, pause to take in the magnificent hills falling thousands of feet below us in the moonlight and shadow, step (watch that cactus!), step (don't fall off that edge!), step, breathe...and without much apparent effort we seemed to gradually float up the canyon as if we were positively buoyant.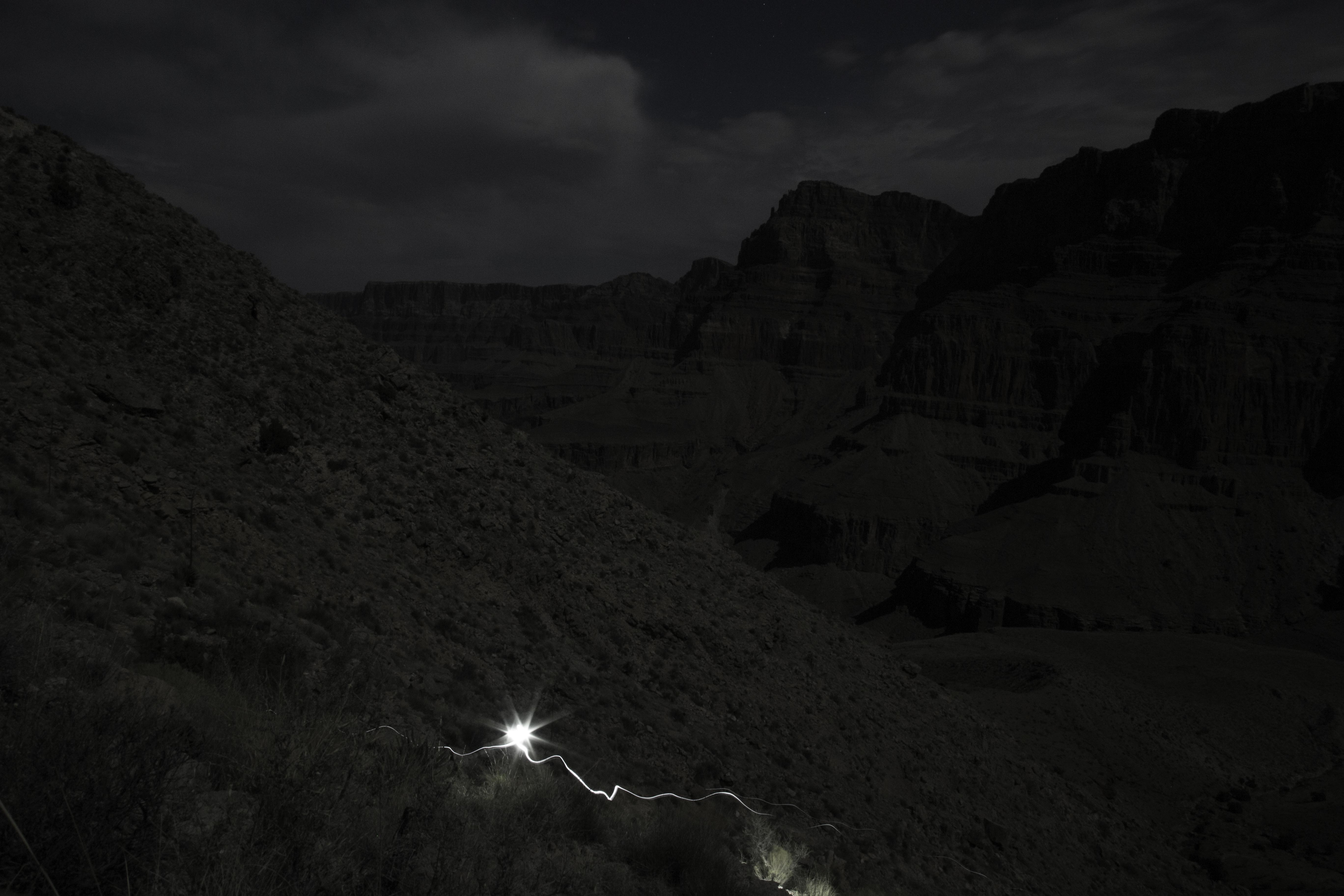 Floating upwards by moonlight.
We arrived at the rim around 5AM, just before dawn, and laid out our bags near the trail. I awoke spontaneously two hours later, feeling refreshed, and found myself looking up from where I lay in cool shadows at the fragrant branches of a pinyon pine and a juniper that met in brilliant sunlight just above my head. We re-packed and had enough time to savor the immense view of the canyon from Lipan point before my friend's daughter arrived to rescue us, our white knight. A big sign at the point said that it has taken the river 5 million years to cut through thousands of feet of sediment. Just a bit upstream of where we exited, the river had finally reached the bedrock layer poetically named the Vishnu basement, the very foundation of the planet. Somehow, admiring the river's achievement seemed a fitting end to the hike. We didn't come close to achieving our original goal, having hiked less than 40 of the 100 miles we had planned, but the trials of the journey and its unexpected moments of beauty had helped us each to dig down to some level of being that felt very solid and peaceful, and our charmed, all-night climb had buoyed everyone's confidence; a final benediction from the fierce canyon.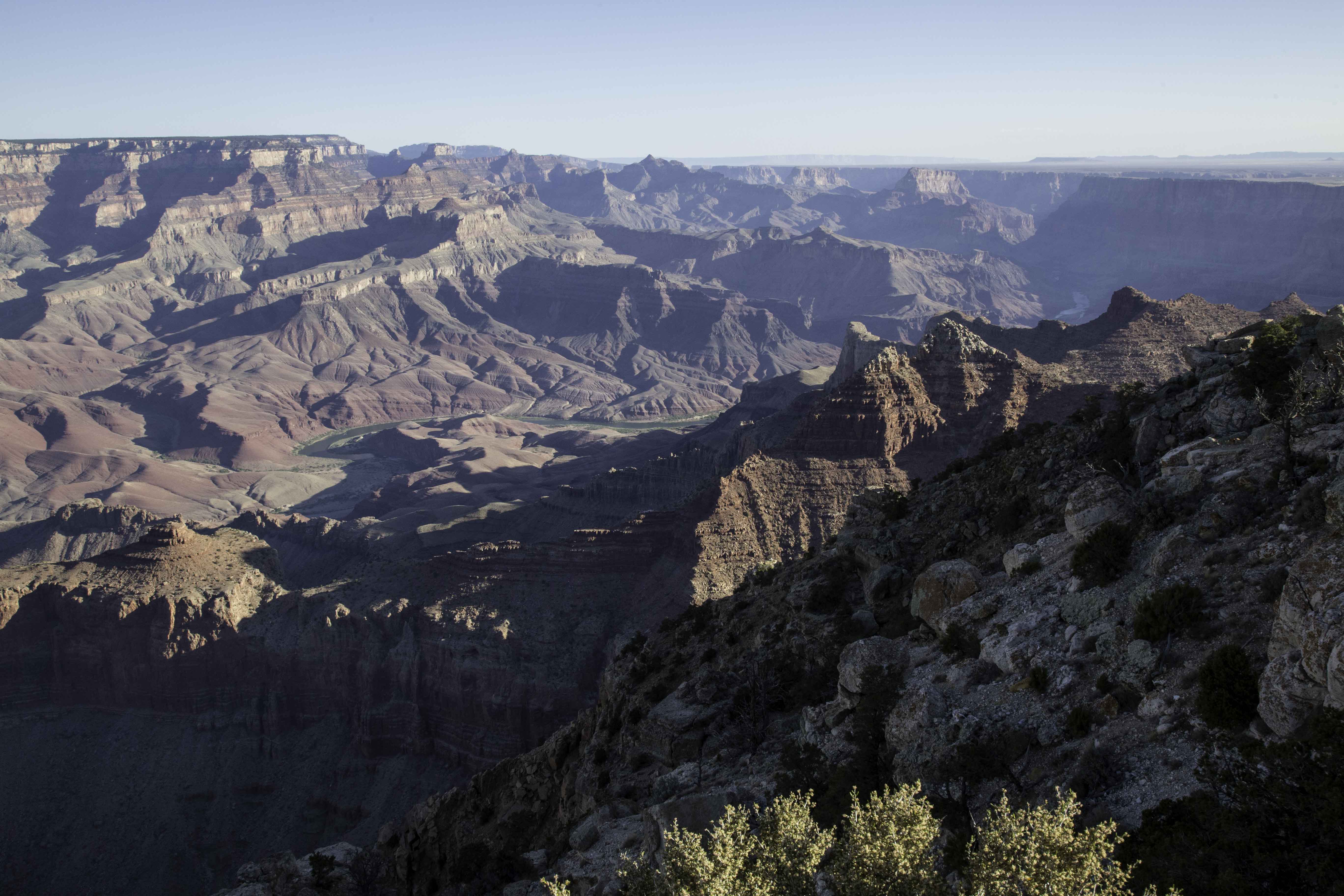 Looking East from Lipan Point a bit after dawn.